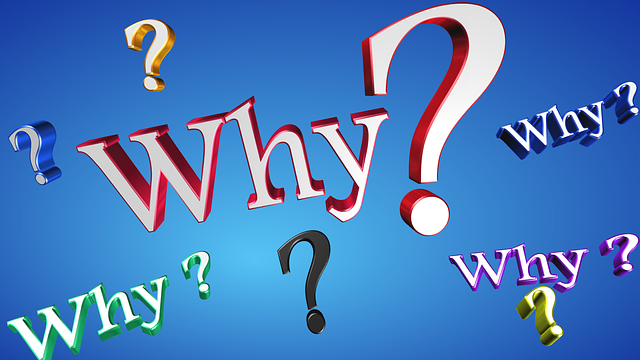 My wife, Sara, has been my better half for thirty years. She has many admirable qualities, but one that I often observe is her penchant for asking questions. Sometimes, I do not perceive it as a desirable trait, such as having to explain that it is a penalty when a defensive back wraps his arms around a wide receiver before the ball arrives… even though the defender's job is to tackle the offensive player. Doesn't everybody know that? Of course not, but when we forget to walk in someone else's shoes we lack empathy and awareness of others.
When I read a quote from personal growth expert Tony Robbins recently, it changed my view about the questions people ask. All questions matter regardless of depth or perceived importance, at least to the person asking them. Questions serve valuable roles in our life, and instead of questioning the questions we should be thankful they are asked. Moreover, we should consider how asking questions can spur personal growth.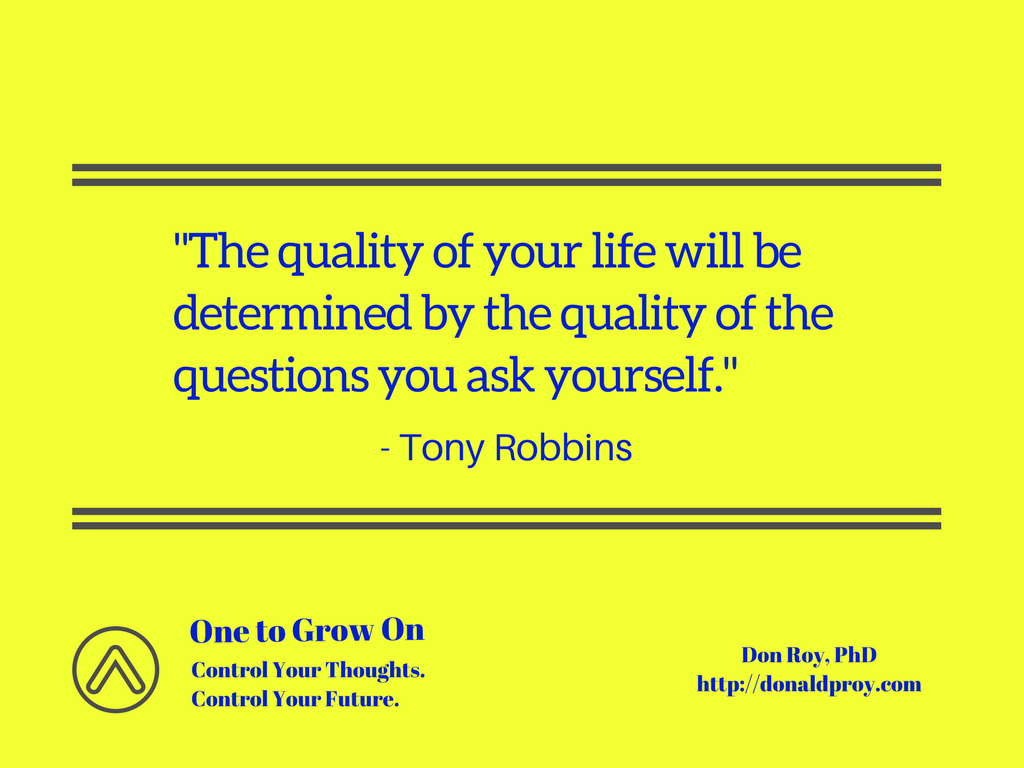 Why We Must Ask Questions
It only took thirty years, but I now understand why my wife asks the questions that she poses about football, current events, and more. And, the reason has nothing to do with ignorance or lack of knowledge. We ask questions to raise our quality of life, as Tony Robbins states. Asking questions is not an indicator of inadequacy. Rather, a willingness to ask questions means we are open to growth.
Asking questions powers growth in three ways:
Questions fill in the blanks. It is impossible and unrealistic to think we can know everything we need to know to get by in daily life. Differences in upbringing, environment, experiences, and more mean we have knowledge gaps. We simply have not been exposed to all that there is to know. Questions are a natural vehicle for closing knowledge gaps. My wife says she asks questions for this reason. She has a curiosity that she seeks to overcome, and asking questions is the ideal way to make it happen.
Questions challenge our assumptions. Asking questions aids in understanding our beliefs about the boundaries in which we operate. Not asking questions could lead to us accepting things as they are… but they could be better. One of my favorite stories related to this point is about a family gathering in which the women of the family are cooking a meal. One of the women prepare a ham to put in the oven. They cut off the end of the ham. When questioned by her daughter why she always cuts off the end of the ham, the mother responds "because my mother always did it." Well, her mother was there, so the reason for this practice could be uncovered. The mother's answer? "I cut the end off because my mother always does it." The matriarch was in the room, so she, too, was asked this question. The secret was finally revealed: "I cut off the end of the ham because my pan is too small." Failing to ask questions could lead to us continuing to cutting off the end of the ham, not really knowing why we do it.
Questions move us beyond status quo. Once we challenge assumptions by asking questions about why things happen, we can ask more questions to effect change and in turn, growth. Returning to the family gathering, the aha moment when everyone learns the end of the ham is cut off because the baking pan is too small should lead to follow-up questions. Is there a reason we never got a larger pan? What size pan do we need? What options are available? Answering these questions could lead to taking action… and discontinuing the practice of cutting off part of the ham.
What Holds Us Back
Given the benefits of asking questions, shouldn't we be posing more of them? Unfortunately, we often pass on the chance to ask and as a result miss growth opportunities. As I think about it, I let far too many chances to ask questions slip away. It helps no one and negatively affects quality of life as Tony Robbins suggests. What is holding me back?
Pride. One of the biggest deterrents to personal growth is pride. How can that be, you might wonder. Why would anyone stand in the way of his or her own development? It can happen when we are too proud to admit we do not know very much. Instead, we should adopt a mindset of if we do not know, ask.
Indifference. Another obstacle to asking questions that we foolishly erect is indifference. We do not know something, but we have survived just fine so far without knowing. So, why bother asking questions? Yes, I may be able to live in blissful ignorance, but at some point that crumbles as a personal development strategy.
Fear. In contrast to the laziness associated with pride and indifference, fear of asking questions relates to what we might have to do based on answers to questions we have avoided asking. Will I expose a glaring weakness I must confront? Am I going to have to admit inadequacies that make it difficult, if not impossible, to reach goals? We must be brave enough to ask questions of ourselves regardless of how uncomfortable answers could make us feel.
No Question about Questions
I have reflected on Tony Robbins's quote several times since first reading it. That one sentence has changed how I look at asking and answering questions. We give ourselves permission to , learn, understand, and grow when we ask questions. It is one aspect of our growth for which we are in charge. We do not need permission to ask questions, nor are we limited in the number of questions to pose… no question about it!