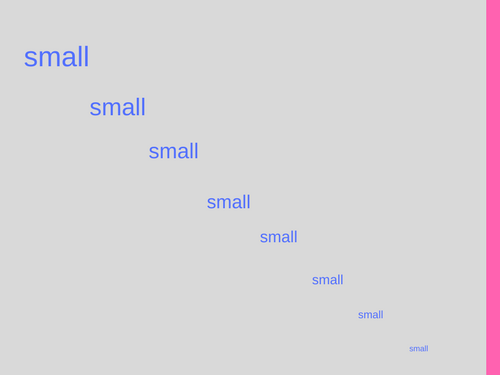 It's easy to associate growth with big thinking. You have to imagine possibilities that stretch previous accomplishments. It requires higher aspirations in learning, relationships, and personal accountability. In short, it is assumed that to get better we must think bigger.
I came across a different way of looking at personal growth in a quote from Pope Francis. Instead of thinking big to grow, Francis suggests we must think small. At face value, the idea is counter-intuitive. To do, have, or be more wouldn't you have to reach for more and see a "bigger you?" Not according to Pope Francis.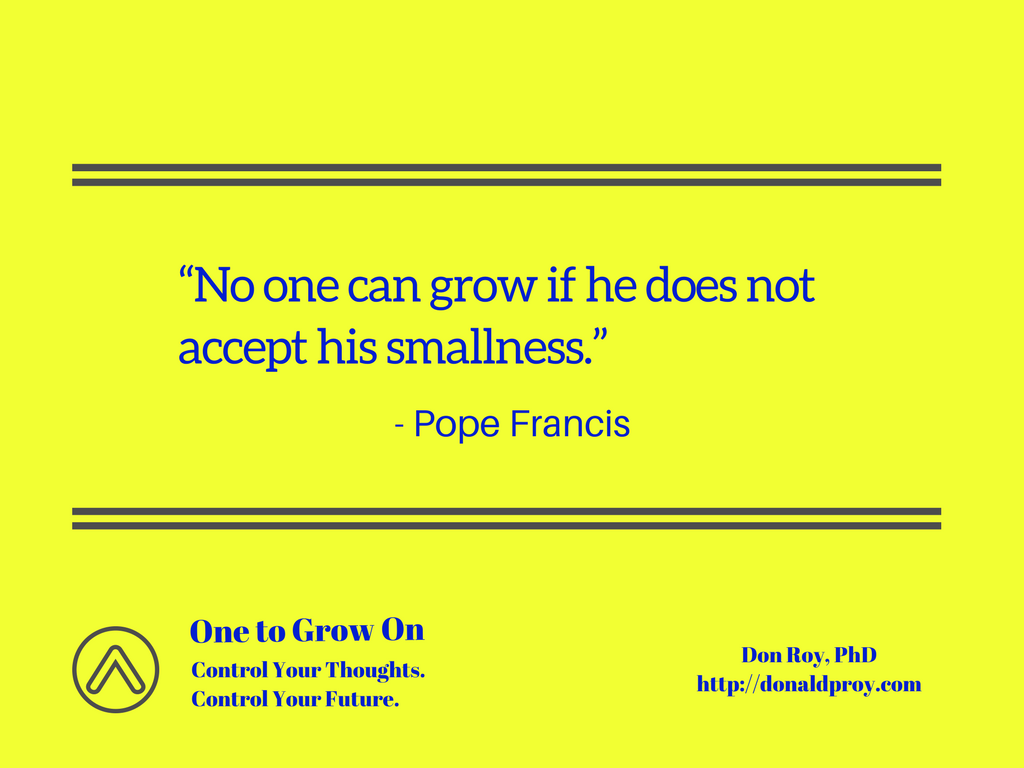 What Does It Mean to be Small?
The words of Pope Francis were constantly on my mind for days. Accept my smallness? What does it mean? What must I do? As a marketer, I advocate for brands and people to stand out. Is accepting one's smallness counter to brand building? While the question of what does it mean to be small has branding implications, it is a much larger issue.
What does it really mean to be small? Three ways of looking at it:
Estimates of today's world population run about 7.5 billion people. I imagine a circle containing 7.5 billion dots and realize I am but one of those dots. My smallness comes through loud and clear in a visual way.
The dots in the circle are interchangeable. We will all die and replaced by new dots. The world can get along just fine without any one of us. My important brand is not so important after all.
Most accomplishments do not come from grand performances or events. They accrue from daily interactions with the other dots in our own world with whom we serve, teach, or love. It's the life equivalent of "small ball," a strategy in baseball of focusing on singles and base-running to score, not relying on belting home runs.
Small Thinking and Personal Branding
From a personal branding standpoint, a question that arises is whether accepting one's smallness in order to grow clashes with personal branding practices. If an aim of personal branding is to rise above competition, is it possible if I am just one of 7.5 billion dots? The answer is a resounding "yes." A brand in general and personal brand in particular is vulnerable. It is not a programmed machine but rather a living being influenced by emotions and relationships. Those vulnerabilities, emotions, and relationships contribute to the stories that are your brand.
Accepting smallness does not diminish the potential impact of a personal brand. The value of a personal brand is not found in vanity metrics of likes, followers, and connections. It resides in the value you provide others through daily encounters… the "small ball" of life, if you will.
The Humility of Smallness
Smallness is not a personal brand weakness. Rather, it is a default setting. A closer look at personal brands associated with being successful, distinctive, and big usually reveals someone who consistently creates value for others. They entertain, inform, support- to serve and benefit their audience. A common trait that can be found in most distinctive personal brands is that a sense of smallness has never been lost.
It is humbling to accept our smallness, but it is also essential for preparing to grow.