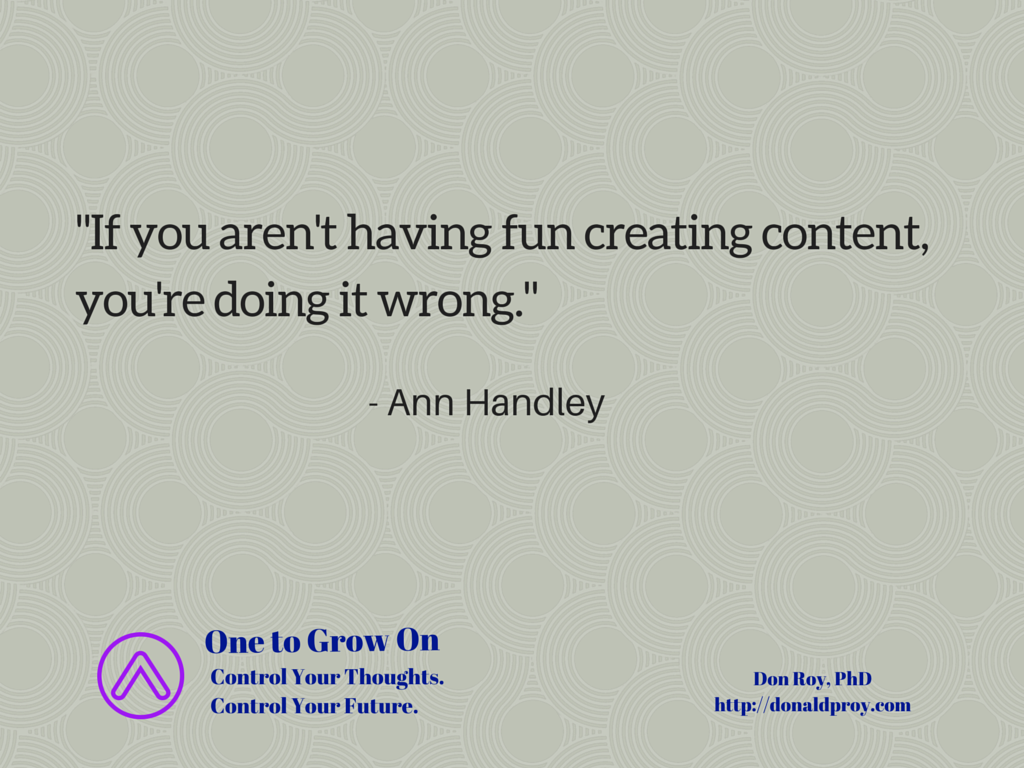 This week's One to Grow On quote is more practical than philosophical, and it is advice anyone who is tasked with being creative on the job should take to heart. The source of this advice is someone who knows a thing or two about creating content. Ann Handley is a writer (author of Everybody Writes and co-author of Content Rules) and Chief Content Officer at Marketing Profs. In marketing, the shift toward content has been swift and dramatic. Brands and individuals alike recognize the benefits of leveraging content channels to build a community, educate customers, and yes, even generate revenue. Recognition of why you should be concerned with content creation is the easy part; implementing a system to plan, conceive, create, and distribute content is where most of us are baffled.
Start with Motivation
If you find yourself struggling to create content in any form (photos, video, blog entries, articles, social media posts), a logical question to ask is why do you want to create content in the first place? Perhaps your employment security depends on it, meaning that content creation is in your job description. While that is true for many people, even more people realize content could make their work more distinctive and make their personal brand stand out. Start with the why of content creation to make the what and how easier to answer. Consider these motives:
Create to help others. The best content is based on what recipients consider useful to them. Does you content solve problems? Teach a skill? Give people comfort? If you are driven by a desire to make a positive impact on those who consume your content, you will find instances of "writer's block" or its equivalent diminishes as you are inspired to create content that benefits your audience. The information or education benefit for the audience could in turn become an economic benefit for you if people are moved to buy from you or your company based on the utility of your content.
Create to help yourself. A funny thing about content creation is that when you set out to help others, you often help yourself, too. For example, I began blogging in 2007 because… well, no particular reason. However, I soon discovered that the exercise of writing blog posts strengthened my writing and editing skills. My confidence increased the more engaged I was with the craft. Audience metrics? I did not look at them for years because blogging was more therapeutic and recreational than it was a commercial endeavor. I write for others' consumption as well as my own release, and if the former does not occur the latter still does.
From Work to Want
Whether you are motivated to write to serve others or for self-fulfillment, you may still be challenged in finding how to put joy in creating content. Based on the external/internal motivations discussed earlier, joy in content creation can come from the following sources:
Being a resource. If you enjoy helping other people, consider how you can use content to make that happen. How-to videos, best practice articles, or step-by-step blog posts are examples of information that could benefit your audience.
Making a difference. You may go beyond merely providing helpful information to content that could be life changing in some way. An open discussion on a sensitive topic, being willing to be vulnerable and share your own stories of mistakes and redemption, or providing encouragement to people who need it could give wings to any content creator in search of ideas.
Regardless of the scope of impact you seek to achieve with your content, when you are driven by wanting to do something for someone else (educate, inform, or inspire) or for self-improvement your outlook changes from "have to" to "want to."
Go Forth and Create
Online channels give everyone a voice today. You have a platform; the choice is yours whether you step up to the platform and use it. It is a privilege prior generations did not have as content creation and distribution was reserved for people who had access to mass media outlets- TV, radio, newspapers, magazines, and books. The goal is not to become the next celebrity; it is to impact your network in a positive way.