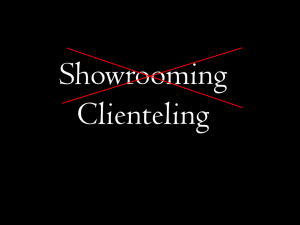 If we believe what we read, brick-and-mortar retailers may soon be added to the endangered species list. Traditional stores cannot match the vast breadth of merchandise offered by e-commerce retailers. And, most small retailers are incapable of matching prices with online behemoths like Amazon. The desire for convenient, open anytime access to shopping makes online retailing an attractive option for consumers. Physical stores have become known as showrooms for shoppers wanting to "kick the tires" before going online to make purchases. "Showrooming" as it is known has become a significant threat to retailers, with the end result being brick-and-mortar stores that do not have a strong online presence are left scrambling to figure out how they can compete and survive.
Play to Your Strengths
Before we shutter the brick-and-mortar model, retailers have one significant asset with which to work in the battle to maintain relevance: Face-to-face contact with shoppers. For all the disadvantages of brick-and-mortar stores compared to their e-commerce competitors, a major advantage traditional retailers enjoy is the ability to build relationships one customer at a time through the in-store experience. We have all heard the standard "may I help you?" when shopping; that is only a notch above totally ignoring shoppers as a customer service practice. Instead, brick-and-mortar stores must capitalize on their proximity to shoppers to demonstrate concern, answer questions, and offer solutions. A recent article by Sarah Mahoney referred to brick-and-mortar stores' opportunity to build relationships as "clienteling," a positive play off of the term showrooming.
What is Old is New
If the description of clienteling sounds familiar, it should. The quest to create a personal, meaningful shopping experience can be traced back to the general store. Store owners knew almost all of their customers by name as well as had intimate knowledge of their preferences and buying patterns. In turn, the merchant could deliver value to customers by maintaining a stock of items that customers wanted and being empathetic to their personal situations. Clienteling is the high tech equivalent of the all knowing shopkeeper. Technology infused into the shopping experience assists in painting a more complete picture of customers and enables employees to tap inventory information and other data to help customers find the products they desire.
The stakes have been raised to deliver exceptional shopping experiences. It is no longer enough to ensure the retail sales floor is adequately staffed to process transactions. Salespeople should be looked to more like a concierge than a clerk- their role is to add value by tapping technology while delivering service with a personal touch. Websites simply cannot match brick-and-mortar stores when it comes to customer interaction, but that advantage is often not utilized fully. Combat showrooming by delivering a personalized experience that is reminiscent of a bygone era.