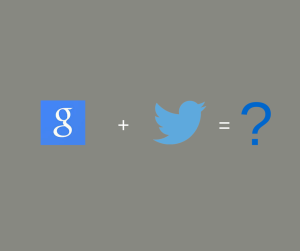 Earlier this year, Google announced a partnership with Twitter in which tweets will be indexed in Google's search engine results pages (SERPs). The deal rekindled a previous relationship the two companies had in which Google's search engine crawled through Twitter but only posted a fraction of total content on Twitter. Google/Twitter 2.0 will feature the search engine capturing the entire "firehose" of tweets, estimated to be pumped out at a rate of 9,000 per second. When the deal was revealed in February, indexing was said to begin during the first half of this year. An announcement by Twitter on May 19 shared that relevant tweets were now appearing in Google search results on Android and iOS devices for U.S. users with the desktop version to follow soon.
What's the Big Deal?
The return of tweets to Google's search results is a win for Twitter in that it boosts the relevance of the social network. According to Search Engine Land, the percentage of Twitter users visiting the site daily dropped from 46% in 2013 to 36% in 2013. Brands seeking greater exposure might be enticed to intensify their Twitter efforts for the potential payoff of appearing in Google search results. An implication of this motive for brands to be more active on Twitter is that they should be more intentional about the content of their tweets. An SEO mindset will be beneficial to Twitter content strategy , with tweets being optimized to consider consumer search and intent. In effect, the organic reach of tweets is enhanced when relevant content posted on Twitter shows up on SERPs.
Making Your Twitter Presence Google-Friendly
If your Twitter activity has been stuck in a rut or lacking in focus, the indexing of tweets on Google's search engine should prompt you to rethink Twitter's role in your marketing communications strategy. Here are three tips for taking advantage of the Google-Twitter partnership and making your Twitter activity work for you in Google's search engine:
Be Relevant– As mentioned earlier, the Google-Twitter partnership should cause a shift in how content creation is viewed. Tweets act more like a landing page than short, pithy statements or merely linking to other content. What you post on Twitter will need to be optimized to make it appealing to audiences. That approach should have always been used; greater incentive now exists to make content more relevant to users rather than focusing a brand's talking points.
Be Active– The benefit of Google indexing Twitter content is also proportional to the activity level to which a brand commits. The first step to take is post consistently to your account. A study conducted by VentureBeat of 1,600 brands over a nine-day period found 47 percent of the brands had no activity during that period. Conversely, a study by Simply Measured of brands with 100,000 or more Twitter followers found that a vast majority of them (92%) posted 12 times or more daily. Your tweets won't be seen if there are none to be seen! But, don't forget point #1- content must be relevant to be indexed as well as to be valued by searchers.
Be Engaging– The stakes for engaging with followers rise under the Google-Twitter partnership. The more interactive the communication is with your community, it could in turn be shared and favorited, extending its reach on Twitter. These actions could be interpreted by Google as signals that the content is useful or interesting , increasing chances that a brand's tweets will be seen by more searchers on Google.
Do You Have a Twitter Strategy?
The Google-Twitter partnership means that it is more important than ever to have a strategy for using Twitter. Vanity metrics like number of followers take a back seat to relevance metrics such as retweets, favorites, and user engagement. Despite the promise of impact from tweets appearing in Google search results, some aspects of using Twitter are unchanged.
The main consideration still is whether Twitter is a useful channel for reaching your target market. If your customers and other stakeholders are not Twitter users, then the changes brought about by the Google-Twitter partnership will do little to help your brand. But, if Twitter is already a part of your social media strategy it would be worthwhile to revisit how it is being used and how can the Google-Twitter deal can become a good deal for your business.