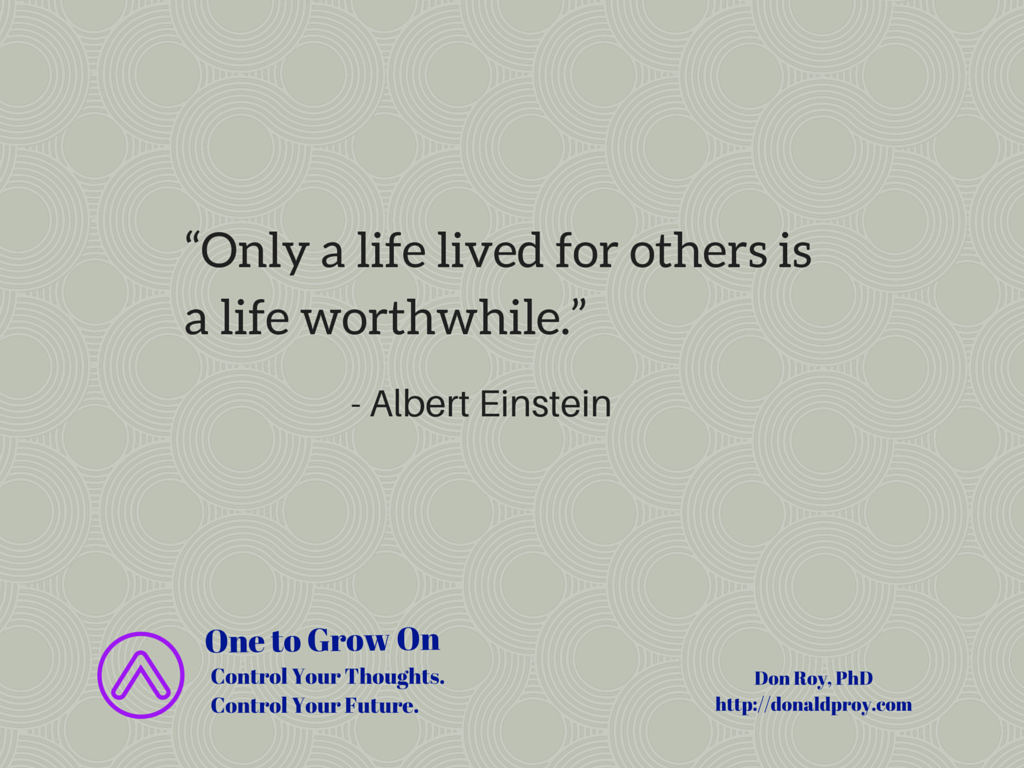 Sign the form. Reply to the email. Approve the request. Take the meeting. Answer a question. Listen to a rant. Deal with a problem. I could go on, but you get the picture. A day in the life of a role in which others count on you requires complete attention to their needs. That focus could require your own needs, goals, and priorities be tabled in order to serve others. A shift in my job responsibilities had led me to reflect on just how I should approach my new leadership role. The above quote from Albert Einstein is an idea upon which I will focus this week to give clarity to what can be a frenzy when serving others.
Shift Value Perceptions
Do we tend to be selfish by nature? As I read over the list of ways others seek my time I cannot help but think about how it takes away from my time- the reading I want to do, social media interaction that has to wait, and writing that becomes less frequent than hoped. I want my life back to do the things I want to do!
At the same time, a huge red flag is raised when I encounter complaints that include frequent mentions of "my," "me," or "mine." That skepticism extends to my own language. I realize I need to reframe how I define value. It is not dependent on how much "me" time I get but rather the impact can I have on persons who depend on me- family, coworkers, and students, among others.
Kid's Play
If you are put in a position of service to others, avoid the temptation to think about how to get out of the situation or what it would be like to not have those obligations. You are there because you are needed. Replace "obligations" with "opportunities" to clarify your purpose.
Einstein's statement seems strong- is a life lived for others really the only way to attain a worthwhile life? As I reflect on some of the most meaningful experiences in my life, I realize the answer is "yes." And, I can thank a group of four-year-old kids for one of the most poignant life lessons I had.
When my now 20-year-old son was four years-old, we signed him up for his first soccer team. I was excited when the phone rang and the league president was on the other end of the line, calling to tell me about Sidney's team. He told me that there was no coach for Sidney's team, and if a coach could not be found… there would be no team. You can probably guess who became coach. My qualifications were puny. Although I am a lifelong sports fan I never played soccer nor knew nothing about it.
I not only got through the season, the joy those kids experienced playing soccer gave me more joy than they will ever know. It would have been easy to say "I can't do that," but it would have denied me the opportunity to stretch my comfort zone and the resulting thrills of coaching a youth soccer team.
Grow Up, not Give Up
This week, embrace the possibilities for growth by looking for ways to live life for others. What you are most likely giving up, your "me time," is limited in impact compared to the difference you can make in the life of others.