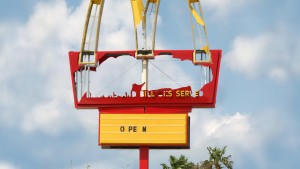 What does a sports team do when performance fails to meet expectations? Often, the coach is replaced in an effort to energize the team and provide new direction. You cannot get rid of the entire team at once, and since the coach is the figurehead leader of the organization it is usually the most prudent course of action to stimulate change. This sports analogy plays out in business, too. A CEO or other leaders in the C-suite tend to take the fall for disappointing performance.
The latest example of a business leader paying the price for unmet expectations is Don Thompson, the CEO of McDonald's. Thompson is a 25-year veteran of the company and only 51 years old, but he will be "retiring" March 1 after a two-year stint as CEO. McDonald's has experienced a precipitous slide under Thompson that includes 14 consecutive months of declining store sales and five straight quarters of declining profits. Just as it is easier to for a sports team to fire the coach and not all of its players, the Board of Directors at McDonald's can at least demonstrate it is making an effort to reverse the company's fortunes by making a change in leadership. Unfortunately, the problems faced by McDonald's go far beyond the person sitting in the CEO chair.
"It's not You, It's Me"
The problem faced by McDonald's is not who is in the role of CEO, CMO, or any other individual. McDonald's has been a mainstay in American culture because it resonated with families. However, many people that were McDonald's fans as children and adolescents find when they become adults that the value proposition of McDonald's does not fit their lifestyle. Whether it is young parents wanting to have their children adopt healthy lifestyle practices early on or young adults who have tired of the menu offerings of McDonald's, many customers have grown apart from the brand. It is not as much about McDonald's doing something to alienate these consumers as it is changes in life cycle stage and lifestyle have led to them drifting away from the brand.
A Matter of Relevance
Changing tastes certainly play a role in the woes McDonald's is facing, but it is not the only problem faced. The brand has lost relevance among many consumers. Fast casual brands like Chipotle and Panera Bread give diners an alternative to quick-service burgers. And, the experience of eating at McDonald's can be more like going to the DMV than enjoying a relaxing meal at a restaurant. To McDonald's credit, it has invested heavily in updating its stores to be more like a Starbucks than a McDonald's. Unfortunately, it has looked more like trying to put a square peg into a round hole. The physical environment might be improved, but the menu is largely still the same fare that customers have drifted away from eating. McDonald's still excels at offering price-based value, but it may have painted itself into a corner that it cannot escape. Is it destined to be perceived only as the value-priced restaurant brand?
Read the Signs
McDonald's has been a fixture in America's popular culture for decades, and its foray into foreign markets is a slice of Americana that can be found around the world. As it struggles to find its identity among today's consumers, McDonald's may have hit on a sweet spot that resonates with consumers in its "Signs" commercial. The spot shows signs from local McDonald's displaying a variety of messages of support, sympathy, and encouragement inspired by events in their local communities or major events like 9/11 or the Boston Marathon bombing.
McDonald's can tinker with its menu all it wants, but the long-term success of the brand will depend less on what new sandwiches are on the menu and more on the impact McDonald's stores have in the neighborhoods where they operate. "Signs" is a powerful message that there are people behind the McDonald's brand, people who care about what is going on in the lives of customers and the good of the community.