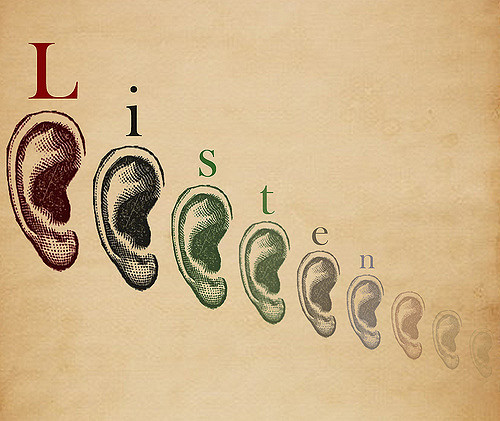 Constructive criticism can be a two-edged sword. On one hand, feedback received can make us aware of weaknesses or shortcomings we do not recognize. Taking corrective action enables us to improve, potentially benefiting both ourselves and the people we serve. On the other hand, criticism can sting. We are not always comfortable hearing about our failings or how we are not performing to expectations. We have to remind ourselves that when criticism is directed at us we can use it in a positive way.
Social media gives businesses the greatest listening tool since the shopkeeper's own ears. Interacting with customers on social media enables a business to get a better read (literally) on what customers are thinking. In turn, social media enables immediate response to them. So, why would a business not want to take advantage of the platform afforded customers through social networking sites?
Stifle Yourself—No
An interesting case of how to deal with customer feedback for a business is reacting to customer reviews. Many people will go online to post a review in extreme cases. They either had a wonderful experience or a dreadful one. Who doesn't love positive feedback from glowing reviews? It validates the company's efforts to serve customers. More importantly, the positive word-of-mouth can impact others' decisions to do business with you.
Negative reviews can have the opposite effect. Depending on the nature of the complaint and emotions of the reviewer, a negative review can be hurtful to the feelings of employees involved and to the business. Wouldn't it be nice if we could make negative reviews go away? You can't, so don't try.
My middle son received a first-hand lesson in how businesses should not approach user reviews. He ended a lease with an apartment complex because he was going to study abroad for a semester. As he neared the end of his stay, he posted reviews about his experience with the apartment complex. He posted candid reviews based on his experiences in 16 months as a resident.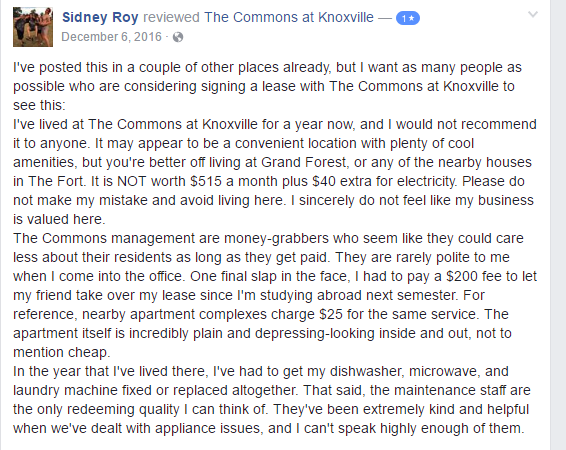 To their credit, a representative from the apartment complex responded, inviting my son to contact the office. The public move to acknowledge the complaint and reach out to the complainer is good social media practice. Apartment complex management seem to practice it consistently based on a cursory look at reviews (positive and negative).
The line a business cannot cross is attempting to stifle customers' free speech. The practice is not only unethical, but it is now illegal. The Consumer Review Fairness Act passed last December protects consumers making truthful reviews about businesses. "Truthful" is the key word. Businesses are vulnerable to unfounded statements and claims. They, too, need protections from people who act maliciously by posting false negative reviews.
Don't Do This
Bottom line for businesses is you cannot shut down free speech in the form of unfavorable customer reviews. A statement like the following sent to my son in a lease termination agreement does not work.
"The Resident Parties agree that neither of them will directly or indirectly, in any capacity or manner, make, express, transmit, speak, write, verbalize or otherwise communicate in any way (or cause, further; assist solicit, encourage, support or participate in any of the foregoing), any remark, comment, message, information, declaration, communication or other statement of any kind, whether verbal, in writing, electronically transferred or otherwise, that might reasonably be construed to be derogatory or critical of, or negative toward, the Landlord. To the extent that any such comment has previously been published to any social media site or otherwise communicated, the Resident Parties agree to immediately remove such reference and take all reasonable actions to ensure that such comment has been permanently removed from such social media site or otherwise."
Nice try to silence customers; unfortunately it is against federal law.
Listen and Learn
Consumers' rights to make truthful comments and reviews about businesses have been affirmed by the Consumer Review Fairness Act. It is pointless to fight it. So, how should your business respond when negative reviews pop up (notice it is a matter of when, not if)?
An excellent resource to learn more about how to deal with customer feedback on social media is Hug Your Haters by Jay Baer. A major point Baer makes in the book is "answering complaints increases customer advocacy across all customer service channels" (emphasis added). That outcome is dependent on people having the freedom to make complaints, of course. In short, complaints may begin due to a perceived failure in the customer's mind but can have a happy ending for both the customer and the business.
Listening Rules
The best communicators without exception excel at listening. Great brands ascend to that status because the people served believe the brand cares about them. Valuing customers and others by listening to their opinions, complaints, and yes, even their rants has a payoff. You cannot build a relationship without two-way communication. Listening is at the core of the brand-customer interaction. Commit to listening and even if the thought of silencing negative voices sounds appealing, forget it.