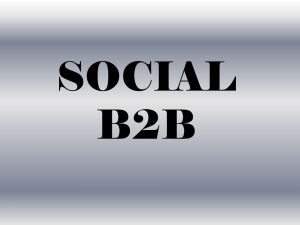 The enormous penetration of social networking sites makes it a no brainer for business-to-consumer companies to establish a presence one or more social nets. Marketing efforts require that we meet audiences where they are, and increasingly they are on social media. Unlike their B2C counterparts, many business-to-business marketers question the efficacy of investing resources in developing a social media presence. An assumption held among too many B2B marketers is that buyers would have little or no interest in connecting with them in the same way they connect with brands in their "off time" as consumers.  If you operate in the B2B space and hold this sentiment, 2014 is the year to adopt a new perspective on social media.
B2B Gets Social
In a post on the MediaPost Marketing Daily blog, Elizabeth Chambers of Metis Communications identified eight trends to watch in B2B social media usage in 2014. Among her observations for B2B social media were:
Businesses will invest more in social media marketing in terms of personnel and content creation
Visually-based networks like Pinterest and SlideShare will gain importance as channels of choice as images continue to trump text-only posts for clicks and sharing
LinkedIn and Google+ are poised to be key destinations for B2B marketers and audiences
Knowledge and expertise will be communicated more via interactive channels such as a webinar as opposed to one-way communication in the form of white papers and case studies.
The points made by Chambers in her article present a compelling case for B2B firms to not dismiss social media as a fad and embrace it as an element of marketing strategy.
Why Social Matters for B2B
If you are a B2B marketer, here are three reasons why social media should be included in your brand building toolkit:
The distinction between buyer as individual and buyer as organization has been blurred– When contrasting consumer and business buying behavior, it is often brought out that business buyers are not acting in their own interests but those of their employers. While this is true, business buyers are accessible through the same channels as consumers. And unlike consumption of traditional media like TV or magazines that may be motivated by desire for entertainment, social media serves a dual purpose of entertaining and informing.
B2B buyers are people, not robots– One reason that the distinction between B2C and B2B buying behavior has been blurred is that decisions are made by people. Yes, they are hired to make choices that are in the best interests of their company, but they are not programmed to do so like a computer. B2B buyers think independently and experience emotions, which ultimately influence their behavior. Social media can reach them to influence thoughts and attitudes toward your products and company.
Mobile access removes the physical distinction between work and play– For better or worse, smartphones and tablets keep us connected constantly to our work. In pre-social media times, advertising in an industry magazine or directory delivered to a buyer's office may have been one of the best ways to reach him or her. Today, they are tethered to the web and apps to connect to their social networking sites of choice.
Social media has significantly changed how marketers can connect with audiences. Traditional communication channels will not disappear anytime soon; social media channels offer complementary means of interacting with customers and prospects. Social B2B is not a replacement for the sales force, but it brings a new dimension of communication that can be beneficial throughout the organization. Instead of waiting for the social media craze to flame out, resolve to figure out what role social networking sites can play in creating impact at each stage of the sales funnel.