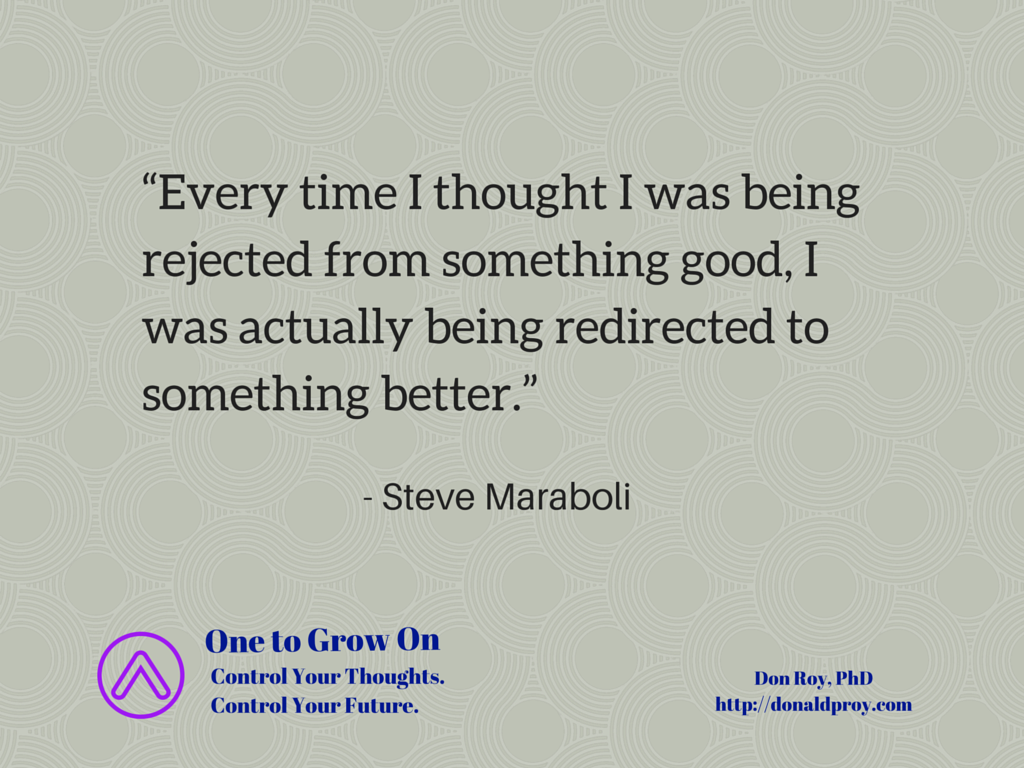 We are programmed to avoid rejection. After all, who wants to deal with the feelings and consequences that accompany rejection? For example, if you are unemployed and do not get one call back on the 25 jobs you applied for last week, the impact on your bank account and self-esteem will probably not be good.
Similarly, if you encounter rejection in personal relationships it cannot be dismissed like some business transaction that did not work out. Instead, there can be deep pain and sense of loss. Thus, it is possible that not putting ourselves in a position to be rejected could spare us from outright misery. At the same time, not being rejected could be equated with not trying to stretch growth boundaries. So, maybe we should be open to the prospect of rejection.
How Rejection Helps
The One to Grow On quote this week comes from professional speaker and coach Steve Maraboli (he bills himself as "the most quoted man alive," so it's about time one of his quotes is featured here). Maraboli's thoughts on rejection serve as an important first step in turning rejection from a negative to a positive. His statement encourages us to think about rejection in a different way. If rejection is something (or someone) saying "no" to us now, it keeps the door for something else saying "yes" to us later.
We have heard stories about successful people encountering rejection that would make many people retreat never to try again. Among them:
Michael Jordan did not make the varsity basketball team his sophomore year in high school.
Jack Canfield and Mark Victor Hansen received more than 100 rejections from publishers before getting a "yes" for their Chicken Soup for the Soul series that has sold more than 125 million books.
Andy Warhol could not even give away his paintings at one point in his career. The Museum of Modern Art in New York declined his gift of a drawing he offered in 1956.
The list could go on, but you get the point. Many successful people did not take the express lane to that destination. Instead, their route was unpredictable and sometimes unpleasant along the way.
Use Rejection to Your Advantage
When you face rejection (yes, it is a matter of when, not if), resolve to turn the short-term pain into long-term gain by doing the following:
Realize it may not be personal – Many times, rejection occurs through no fault of your own. Substitute just about anyone else for you in the same situation, and rejection would be a likely outcome for them, too.
If it is personal, be accountable- In some instances, it is you. Avoid the tendency to affix blame externally (the economy, your in-laws, the boss, your co-worker) and look into the mirror to understand why the rejection occurred. What misstep(s) did you make? What could you have done differently to change the outcome? What will you do the next time you are in a similar situation?
Make it part of your story – I would not encourage you to go out of your way to fail, but rejection can become part of your personal brand story. Just like Michael Jordan, Jack Canfield, and Andy Warhol experienced rejection only to rise to great heights, rejection that you experience could be a marker on your success journey. It is inevitable that you will fac adversity; how you respond to it will go a long way toward defining you.
Embrace Redirection
I like Steve Maraboli's characterization of rejection as a redirection to something better. And, I see it as more than an effort to put on a brave face when adversity strikes. Many years ago, I did not get a job that at the time I thought was my dream job. Less than two years later, I accepted a job at the institution where I still teach today. My career and family life would have been drastically different had I gotten that dream job, and I am afraid it would have been for the worse. Rejection redirected me to another opportunity down the road, one that I cherish each day.