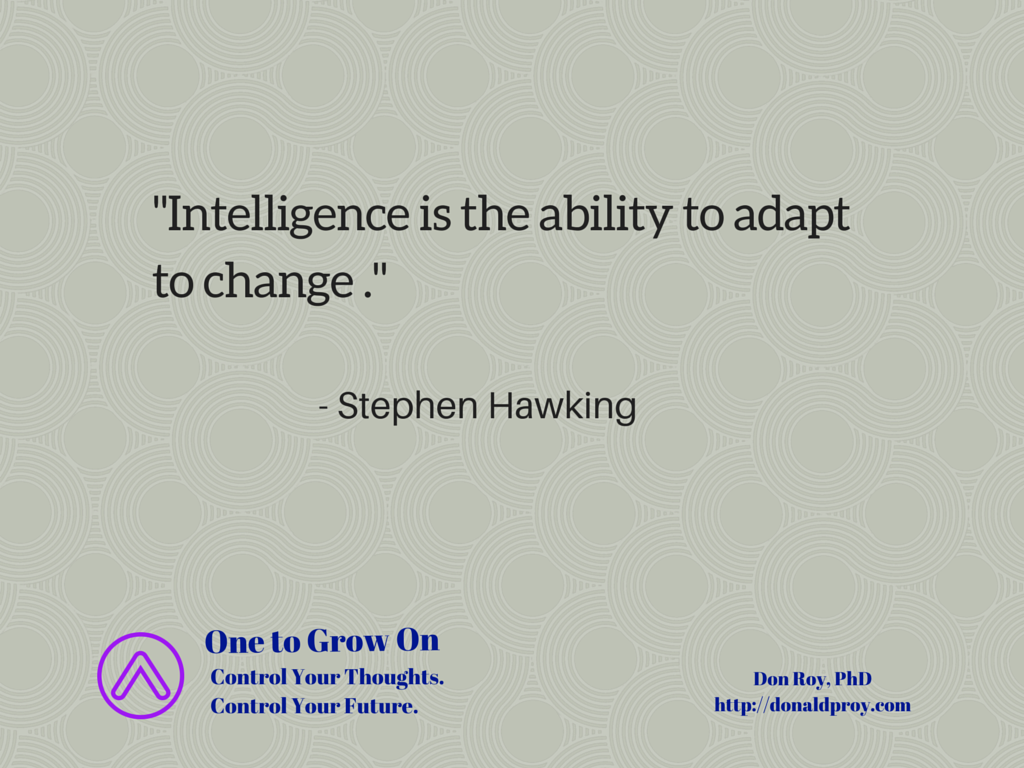 Change is a dominant theme for me this time of year. As an educator, August has as much significance for ringing in a new year as January does for most people. A new beginning in the form of meeting new students, teaching new classes perhaps, and implementing new initiatives or policies are part of the way of life in academia. And, change brought about by a new school year impacts anyone with school age children. Kids make new friends, meet new teachers, and even find themselves in a strange place if they are in a new school. The adage "the only constant is change" is evident this time of year.
Change is Tough
Change may be prevalent when you embark on a new year, endeavor, or project, but just because it is expected or common does not mean it is easy to handle. Change is not only hard to handle, it is too much for some people to deal with. The result is they do not adapt to change and struggle to keep up as the world moves forward without their buy in. Why is change difficult to embrace? Three barriers to embracing change are:
Disturbs our comfort zone. Change can elicit a negative response because it is just that- change. We have to do think or act differently than normal, and normal may suit us just fine. We have a comfort zone in which we exist and operate. It is called a comfort zone for a reason- it is comfortable! But, comfort and growth are often incompatible conditions. The photo below was taken at Middle Tennessee State University's commencement ceremony recently. The message is powerful. I hope a lot of graduates were able to see that message!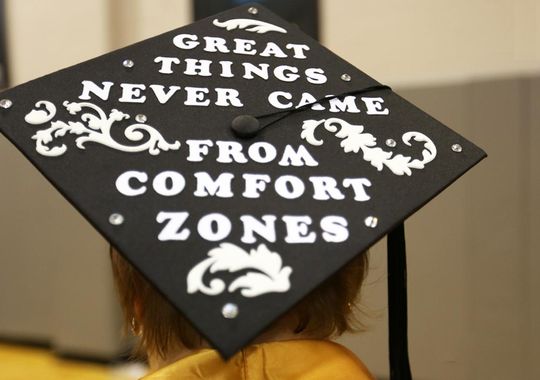 What if I fail? Related to the notion of upsetting our comfort zone is that change brings risk that we are subjected to if we fail in adapting to change. Could you get fired if you do not meet expectations in a new position? Yes. Could you go bankrupt if your business venture flops? Yes. Could you stub your toe when you walk across the room to sit on your sofa to spend an evening watching television? Yes. Risk is ever present, but it should not keep us from doing something that we need or want to do.
What if I succeed? This barrier might seem odd given that the objective for trying something new is to succeed at it. If so, why would the possibility of success make us resistant to change? The answer goes back to the comfort zone in which we reside. Success in a new job might mean more responsibilities, greater demands on your time, and even travel that physically takes you out of your comfort zone. You may have heard the saying "be careful what you ask for- you might get it." That sentiment applies here. Change can result in success that can bring about even more change that you must be prepared to handle.
Adapt to Change
This week's One to Grow On quote spoke to me when I encountered it. I was not seeking out words of wisdom to deal with change; it fortuitously crossed my path. However, it could not have been timelier for me as a new academic year is around the corner, my department is going through a reorganization, and I have taken on a new role as interim department chair. Change is going to be a theme for me in 2015-2016, for sure! When change unfolds, we can try to resist it or modify it to suit our personal agenda, or we can embrace it and adapt so that we not only survive change but thrive from it.
I am not suggesting to blindly accept and go along with change when imposed upon you. In some instances, standing on principle and fighting for what you believe is the right thing to do must be done. But, do not confuse those behaviors with defensive responses that fall into the three areas described here. Consider Stephen Hawking's words that infer a link between intelligence and adapting to change. How you approach dealing with change and leading or working with others through change can result in the impact on intelligence that Hawking suggests.