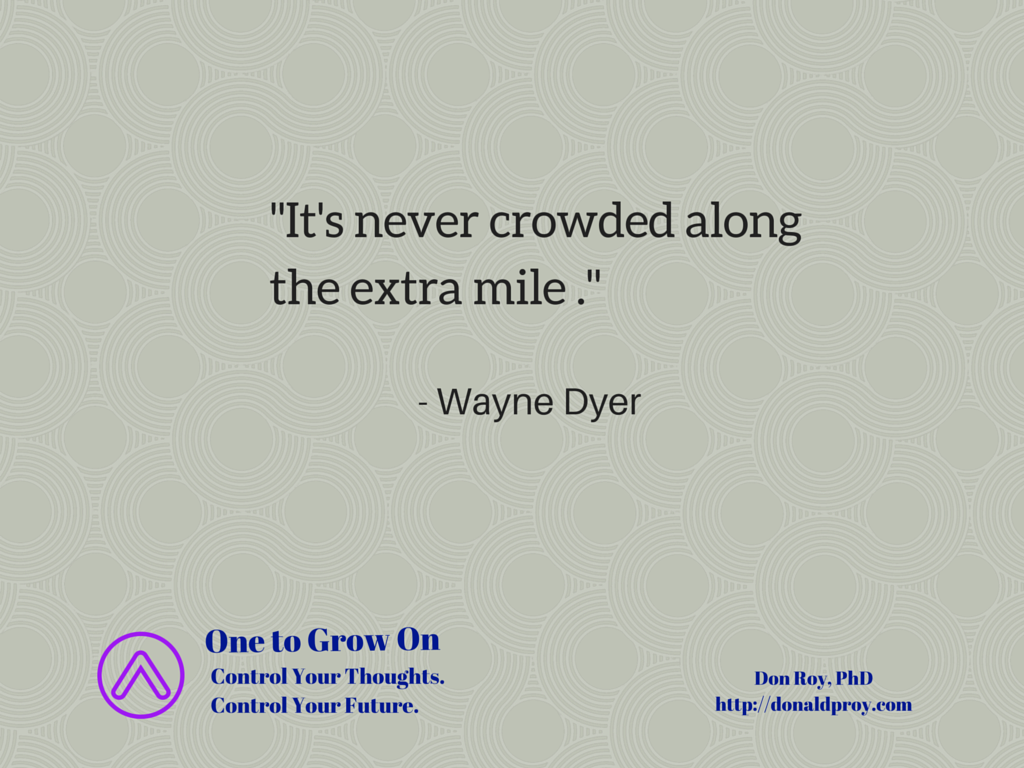 The news stopped me in my tracks. A very influential voice in my personal and professional development (and for thousands of others over the past forty years)) has been silenced. Dr. Wayne Dyer passed away over the weekend at age 75. He publicly acknowledged he was battling leukemia, but he never used his illness as an excuse to slow down or deviate from the message of body, mind, and spirit existing together in harmony.
Dr. Dyer's work has touched me for the past twenty-five years, and it is only fitting that this One to Grow On post be a positive message from him.
The Journey of the Extra Mile
"Going the extra mile" is a timeless expression encouraging us to go beyond the minimum required to complete a task or meet a commitment. It is more than we have to do, but going the extra mile often delivers added benefit in the form of higher quality work or more meaningful service to others.
Buying into the idea of going the extra mile can be difficult sometimes. After all, it is extra- not traveling that last mile will not harm us, get us fired, or otherwise have negative effects. And, it is easy to not go the extra mile as we are adept at talking ourselves out of it. Perhaps we want to save gas ("I'm tired"). Or, we do not want to wear out the equipment, our mind and body, by delaying the journey ("Maybe I will do it tomorrow" or "No one else is doing it").
Unfortunately, when we talk ourselves out of going the extra mile we can deny ourselves the joys and benefits of what we can experience once we have traveled it. It is highly unlikely that a family headed for a vacation at Walt Disney World would turn around and go home because of heavy traffic on the last mile to the front gate. Yet, when we talk ourselves out of going the extra mile we may be shutting out opportunities to meet interesting people, learn new skills, or gain valuable experience.
Eliminate the Extra Mile
So, how can you become a more seasoned traveler and make the journey of the extra mile? As I see it, there is no need to go the extra mile when it is not extra- it is simply part of the trip you take to the desired destination. For example, if you are in a position of serving other people you consistently treat them with respect, promptly resolve problems, and strive to be a valued resource. It is not extra; it's part of your product design. However, it will look like you go the extra mile in the eyes of others who too often interact with people who slam the brakes before going one inch along the extra mile.
I am grateful for the encouragement of Dr. Wayne Dyer to go the extra mile and the many other words of wisdom he shared in his books and presentations. His physical presence has ceased to exist, but his influence will live on.