Small businesses have been competing in a defensive posture for most of the past two decades. Competition from corporations and chain companies have made it difficult to attract customers and compete on price. But, small businesses are thought to have an advantage that their larger competitors simply cannot match: customer intimacy. Small businesses often avoid having distance put between them and customers.  Decision makers, including business owners can frequently be found on the front lines serving customers. In contrast, key personnel in larger firms may become removed from direct customer interaction because of greater demands on their time to perform administrative duties. So, small businesses will be able to battle their deep-pocketed competitors as long as they turn on the charm through customer service, right?
Hard versus Soft Traits
Not so fast- it appears that consumers are not as enamored with "touchy feely" interactions with small businesses as we typically assume. An annual survey by BrightLocal, a SEO agency specializing in local businesses, found that the customer service advantage local businesses are presumed to be able to realize relative to larger competitors may not be so important to consumers. When asked to name up to three "reputation traits" influence choice to patronize a local business, the top responses were:
Reliability (71%)
Good Value (45%)
Expertise (36%)
And somewhat surprising were criteria at the bottom of the list:
Friendliness (8%)
Courtesy (5%)
Localness (5%)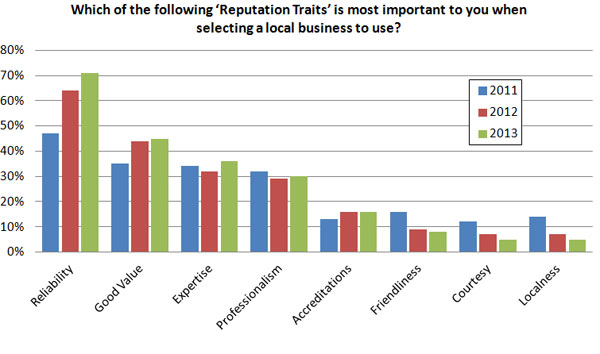 Source: http://www.brightlocal.com/2013/06/25/local-consumer-review-survey-2013/, accessed June 27, 2013
The findings suggest consumers are interested in functional criteria related to performance and benefits received for price paid. The low importance attached to friendliness and courtesy is a blow to the notion that those traits are potentially the most potent differentiators that local businesses possess.
Don't Change, Just Get Better
Hopefully, local business owners will not look at the LocalBright study's findings and make a strategic choice to forego friendliness in order to focus on enhancing reliability, value, and expertise. The personal touch that local businesses can offer is valuable; it is just not valuable enough on its own, evidently. I was surprised at the findings initially but then thought about my experiences with local businesses as a consumer. Being local and even being friendly cannot compensate for businesses whose products or services are not as good as competitors. Local business owners may be our friends or neighbors, and they embody the American entrepreneurial dream. But consumers are not willing to subsidize the dream; they have expectations about the competence local businesses should exhibit and value they offer.