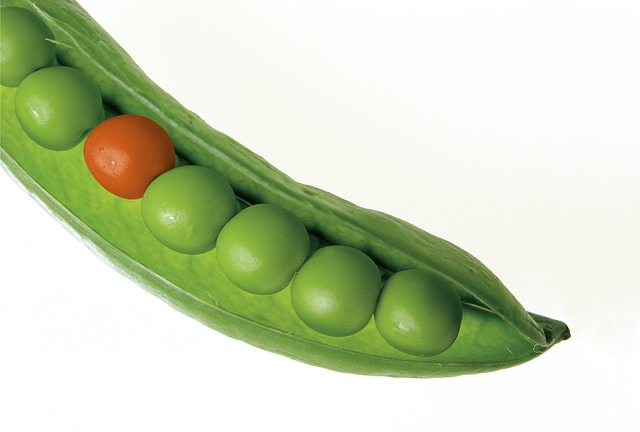 In branding, sameness is considered a weakness. You may have heard the term "Commodity Hell" used to describe brand parity or sameness. Notice the term is not "Commodity Heaven" or "Commodity Bliss." The quest to avoid sameness in branding can be traced back to the purpose of brands. They identify the source of a product (i.e., the responsible party) and differentiate from other products. A brand that does not set apart a product as distinctive could be doomed to become lost in a sea of similar offerings.
The importance of separation through branding applies to personal brands, too. We like to think that the quality of our work is enough to signal our value. It can happen, but do not count on your hard work being the difference. Chances are many employees in your organization work hard, so work alone will not make you stand out. Instead of focusing on working hard, maybe it is time to make being different a priority.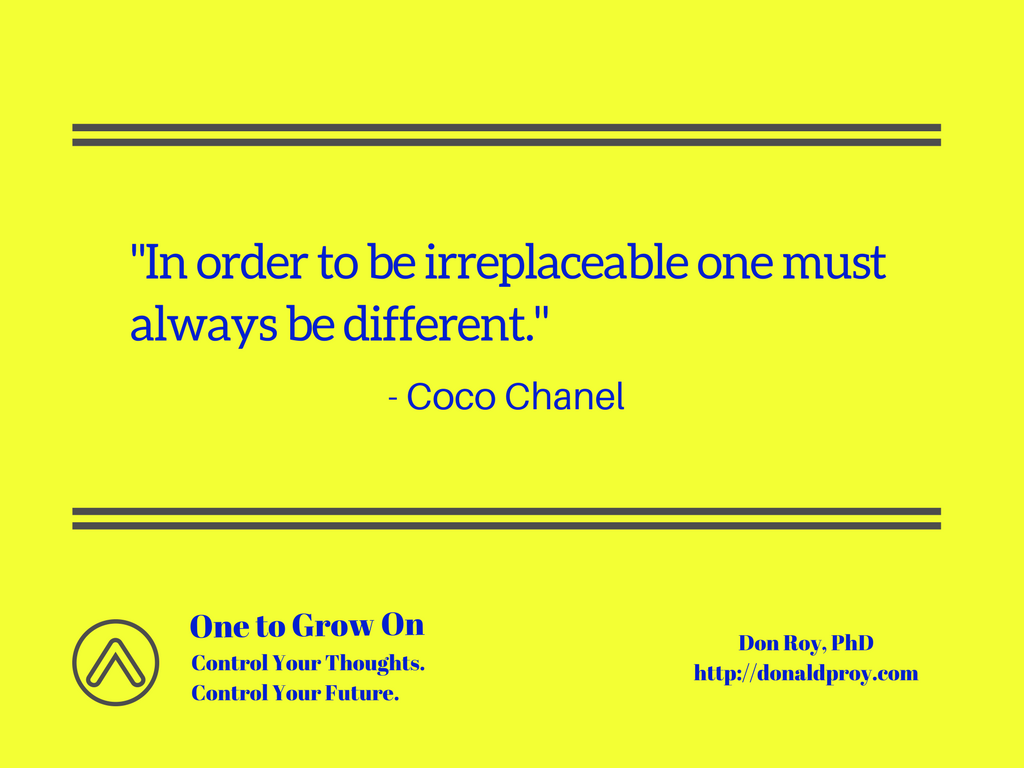 This week's One to Grow On quote comes from fashion designer Coco Chanel. She suggests that the ultimate in branding, becoming irreplaceable, is driven by being different. Let's unpack what it means to be different.
Three Degrees of Different
Coco Chanel's advice to be different sounds simple enough. Different is the opposite of same, right? Well, yes it is, but we must be strategic in how we set out to be different. You can realize three degrees of differentiation through personal branding. Each one has potential to work (i.e., set your brand apart from others). The question to ask about each degree of different is whether it would be effective for your brand.
Different for the sake of being different. We can be different simply by adopting a distinguishing branding element. For example, a man could make polka-dot handkerchiefs a signature look in his professional attire. Similarly, a woman could always wear a scarf (even have every scarf be the same color). These memorable attributes become associated with that person. They become "the polka dot guy" or "the scarf lady." This degree of different allows us to check the box that we are somehow different, but we may not possess a point of difference that actually helps other people.
Different but not unique. Most personal brand differentiation is described as different from others but not one-of-a-kind different. College students earning graduate degrees join a small minority of the population with an advanced degree (only 12% of Americans have grad degrees). Select group? Yes. Different from the rest of the world? No. You may set yourself apart from many others in your organization or field in some way that benefits others. That outcome is good; it is the overarching aim of branding. The downside is that there is still room for others to eclipse your point of difference and render you less competitive.
Different and unique. The ultimate in personal brand differentiation is to set yourself apart from others in a way that no one else can replicate. That point of difference is likely small and could be a combination of traits such as skills, personality, and experience. This degree of different is realistically achieved over time. You will not start out world class at anything. Different and unique should be an aspiration, not a starting point for personal brand differentiation.
The Courage of Different
Brand differentiation comes at a price: risk. Sameness offers comfort and certainty. We are less likely to fail or stand out for the wrong reasons if we do not go looking for a way to be different.
Coco Chanel's quote intrigued me. I wondered how she had been different. Chanel is credited with breaking ground in fashion and women's fragrances. She challenged status quo in attitudes toward the traditional black dress. Chanel transformed it to clothing worn for mourning to a fashion staple. Equating becoming irreplaceable with being different was not merely a pithy quote uttered by Coco Chanel. Her contributions as a designer and entrepreneur were due to her willingness to take risks.
What degree of different are you at today, or are you mired in sameness? If the latter describes you, it is imperative to select how you will break out of those chains. You probably know people that are irreplaceable at what they do. What makes them different from others who are vulnerable to being replaced? What do you need to do to move to the irreplaceable list? Differentiation is not about novelty; it is about necessity.